Vending Services in Washington DC, Maryland, and Northern Virginia
When David Gordon and Craig Kushner started Monumental Vending back in 1991 with a single vending machine, their lofty goal was to build the best vending services company around. And build it they did. After more than two decades of growth, we have nearly 3,000 vending machines installed throughout the Washington DC, and Baltimore metro area – all equipped with the latest technology and backed by a team dedicated to offering the very best vending service. Many vending companies might claim to be the best – at Monumental Vending, we were recently selected as the Best Vending Company in America by our industry.

Over the past 21+ years, David and Craig have invested heavily in vending technology to allow us to provide better service. They've created a team of dedicated employees to deliver on that service. Plus, we've just relocated to a larger, state-of-the-art warehouse as we continue to set the gold standard in vending.
What does it take to be the best vending services company?
When it comes down to it, consumers really just want a few things from a vending machine:
that the vending machine is filled
that the vending machine is working
that the vending machine has the snacks or drinks desired
Those goals might be simple, but consistently delivering on that promise is what separates Monumental Vending from other vending companies. We just do this better than anyone else. Here's how:
Filled: All of our vending machines are equipped with cellular technology so that we know how many products are in each row of every machine-all the time. Our state-of-the art warehouse assures that our drivers have what they need and our dynamic scheduling ensures just-in-time service.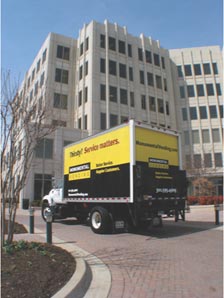 Working: We use the same wireless technology to help us keep our machines up and working. Even though our vending machines are the newest around, problems sometimes happen. If that happens, our machines actually "call us" to report the problem so a technician can be dispatched right away.
Selection: Because our sales data is so robust, we can use that information to make sure that the product mix in each machine best matches the location's buying patterns. Demand on the 7th floor might not be the same as the 8th floor and we treat them differently. We carry hundreds of drink and snack items in our warehouse, including healthy, organic snacks and healthy beverages. We can meet any location's needs.
Vending Services Pioneers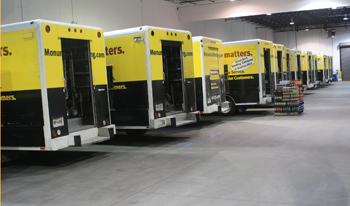 We've invested significant resources over the years to ensure that our vending service is unmatched. From purchasing the newest snack and soda machines to installing wireless in every vending machine to handheld computers for our drivers, Monumental Vending has always invested in the future. Along the way, we've been at the leading edge of many key industry innovations.
Dedicated Employees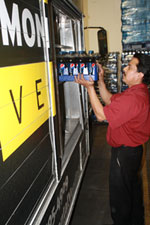 We've paired up our amazing vending technology with a talented, customer-focused workforce. We have virtually no turnover because we carefully hire amazing individuals and then thoroughly train and support them. All our employees must show a commitment to Monumental Vending's Four Core Values:
Dependability
Courteousness
Attention to Detail
Strong Work Ethic
Learn More About the Monumental Vending Way
Contact us today to find out just how much better a vending service company can be. We'd be happy to meet with you to develop a program that fits your organization's unique needs.